laser plate cutting machine 
Product category introduction
laser plate cutting machine 
A laser plate cutting machine is a type of machine that uses a laser to cut through metal. These machines are typically used in industrial settings, but they can also be used for personal projects. Laser plate cutting machines can cut through thick or thin metal, and they can be used to create intricate designs.
A plate laser cutting machine can quickly and accurately cut through metal plates with ease. This is a versatile tool that can be used for a variety of applications, from hobbies to professional projects. The machine is easy to use and provides precise cuts, making it a valuable addition to any workshop.
If you are looking for this machine, find out more about the laser plate cutting machine here.
Plate laser cutting advantages
The machine is perfectly suited to the customer's cost effective requirements, with the use of spliced beam technology. This technology allows the customer to save a lot of money when transporting the machine. The installation of the machine is easier and more rational, while ensuring precision in installation and cutting.
Efficient smoke extraction
The system coordinates the laser cutting head with the whole machine, identifying the area at the front, middle and rear of the machine where the laser head is working, then the fume extraction holes in that working area will open.
The pressure of the fan at the top of the machine and the suction of the fan at the back of the machine exhausts the smoke in real time during the cutting process. This speeds up the smoke exhaust and enhances the air circulation inside the machine, making the smoke exhaust more complete.
| | |
| --- | --- |
| Working area | 12000*3000mm |
| X-axis travel | 1520-3050mm |
| Y-axis travel | 3020-12050mm |
| Z-axis travel | 120-300mm |
| X.Y.Z axis position accuracy | ±0.05mm/m |
| Acceleration | 1-2.5G |
| Maximum running speed  | 150m/min |
| Maximum table loading weight | 7000kg |
| Laser power | 12000W-30000W |
| Power supply | 380V/50Hz |
Laser plate cutting machines are used in a variety of industries to cut through thick metal plates quickly and easily. This technology has revolutionized the way that many industries operate, and has made it possible to cut through metal much faster than ever before.There are many different types of laser plate cutting machines on the market, each with its own unique set of features. These machines can be used to cut through a variety of different materials, including aluminum, stainless steel, and even titanium.No matter what industry you're in, there's a good chance that you could benefit from using a laser plate cutting machine. If you're looking for a way to improve your productivity and efficiency, then investing in one of these machines is definitely a wise decision.
Technology and ability to design machinery
JQ Laser has the technology and ability to design machinery. The company has years of production experience, which gives it an edge over its competitors. Besides, This is based on the company's extensive experience in designing and manufacturing laser machines. In addition, JQ Laser constantly collects feedback from customers, which helps them improve their products. As a result, the company is able to offer its customers high-quality machines that meet their needs.Third, because the company has a lot of capital for independent research and development. The company also has a lot of experience in the industry. Finally its due to their affection for the laser cutting industry. They have a strong team that is able to develop new products quickly and efficiently. In addition, their customer service is excellent and they are always available to help with any issues that may arise.
What we offer is different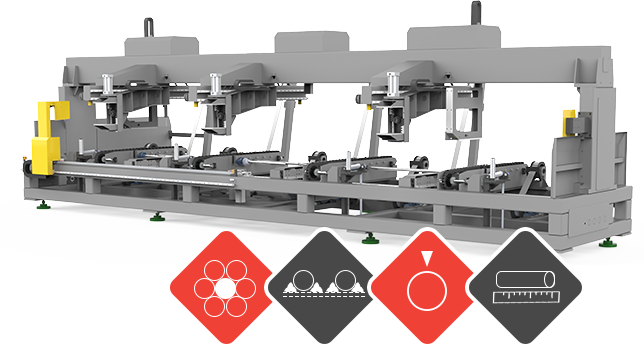 As a company that has been in the industry for over 10 years, we have had the opportunity to perfect our craft. In that time, we have become experts in tube laser cutting machines. This allows us to offer our clients a unique advantage—the ability to produce high quality products with a quick turnaround time.
Our team of skilled professionals are able to operate the machines quickly and efficiently, meaning that your project can be completed in a shorter timeframe than if you were to use another company. Additionally, because we have such a high level of experience, we are able to offer competitive pricing without compromising on quality.
If you are looking for a company that can provide you with the best possible service and product, then look no further than us. We guarantee that you will be satisfied with the final product and amazed at how quickly it was completed.
Installation guide and after sale service
JQ Laser provides complete user guidance on installation and use, which has set up a special overseas after-sales department to solve all user problems in a timely manner.The company has been committed to providing users with the best products and services, and has always been highly praised by users. The establishment of the overseas after-sales service department will further enhance the company's service level and better protect the interests of users.and has successfully helped customers in more than 170 countries and regions to achieve normal operation. JQ Laser will continue to provide users with better products and services, and create more value for users.
JQ Laser has always been proud of its efficient after-sales service and problem solving. We have a team of highly trained and experienced staff who are always ready to help our customers with any issues they may have. We also offer a satisfaction guarantee so that our customers know that they can always expect the best from us.
In just a few simple steps
During the communication, the salesperson will recommend products and quotes according to your needs.
After placing an order, you will always be provided with product production and logistics information.
After receiving the goods, you will get complete written and online instructions, 24 hours after-sales service.
Saving Your Shipping Cost
JQ Laser is the top leader in research and development as well as production capacity in the laser industry. They always consider customer service to be a priority.There are many factors to consider when deciding on the packing size for shipping crates. The most important factor is the safety of the items being shipped. The second factor is the cost of shipping. You want to make sure that you are getting the most bang for your buck when it comes to shipping costs.We take all of these factors into consideration when we design shipping crates for our clients. We analyze the items to be shipped and determine the best packing size that will ensure their safety during transport. We also work with our clients to maximize their logistics cost so they can save money on shipping.Our years of experience and expertise allow us to provide our clients with the best possible packing solution for their needs. Contact us today to see how we can help you with your next shipment.
frequently asked question
What kind of laser cutter can cut metal?
Among the most typical laser wattages to examine are 3,500, 4,000, and 6,000. Lasers of 6,000 watts are very effective for cutting through specifically thick or strong metals, although they often require a lower wattage.
How thick can a laser cutter cut?
The machines that can cut material as thick as 20 mm are rare, while most other machines work best cutting materials less than 1 mm in thickness.
What is the best laser for cutting metal?
An industrial fiber laser with a power rating of over 20W is ideal for etching or marking a variety of metals, whereas a laser with a power rating of over 100W is superb for cutting jobs.
How does a tube laser cutter work?
A tube laser cutter is a type of CNC machine that uses a laser to cut materials. The machine consists of a laser, a controller, and a material bed. The laser is used to cut the material and the controller regulates the speed and power of the laser. The material bed holds the material in place during cutting.
Leave Message And Get The Answer
In order to improve the user experience and improve our production technology, JQ laser has been collecting real machinery handling questions and comments from the market, which we will analyze and provide answers to, and we will also adopt the favorable production ideas.
You will receive an email with the suffix @jqlaser.com. Our sales team and technical team will answer you within a day